​3D Personnel are delighted to announce our slightly delayed Employee of the Month selection for August! The recipients kept the 3D flag flying out on site, during heatwaves, thunderstorms and lots of rain, leading by example while getting the job done. Congratulations to you all.
John Wright and Maria Candilio representing our UK offices

PJ Moore representing our Irish offices
We would also like to take this opportunity to congratulate two of our 3D Team members, Ruben Filipe Joaquim and Valdir Bianco, on their specials award for their hard work on the BOUYGUES UK, Ebury Bridge Estate project in London.
Our monthly awards are an opportunity to focus on our core team members working on sites and projects throughout the UK and Ireland. We thank them all for their dedication and hard work.
​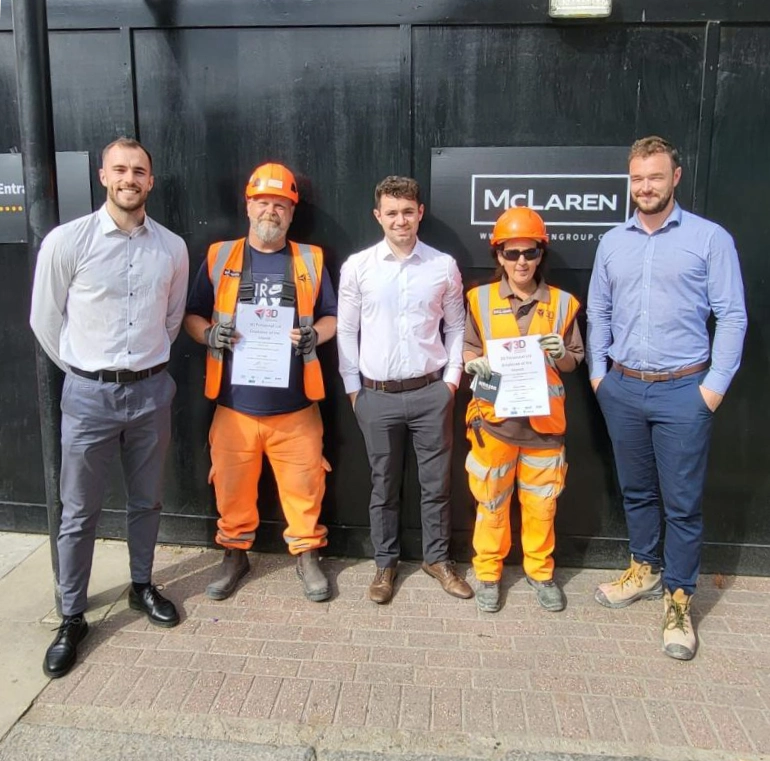 John Wright and Maria Candilio representing our UK offices
This month we have a joint employee of the month award for our two Traffic Marshalls, John Wright and Maria Candilio, who couldn't be separated for their hard work at McLaren Construction Group's prestigious job in Islington.
3D Personnel's UK Operations Director, Steve Woodward commented:
John has worked with 3D Personnel for nearly 8 years and he is delighted to be part of the team at McLaren's £100 million project at Angel Square

John is our lead Traffic Marshall on site. His roles include managing all deliveries in and out of the site, ensuring the road safety regulations on site are followed by all drivers and other workers, and delivering safety briefings along with McLaren staff to all team members on a daily basis.

Maria is a more recent addition to 3D Personnel. She has come through our S106 initiative employing local people to construction sites. Maria lives in the London Borough of Islington and is qualified in all aspects of traffic marshalling. We are delighted to have Maria onboard and thank our partners at Islington Council, who we work with to support local residents looking for construction work located in their neighbourhoods.
​
Great job guys - 👏
​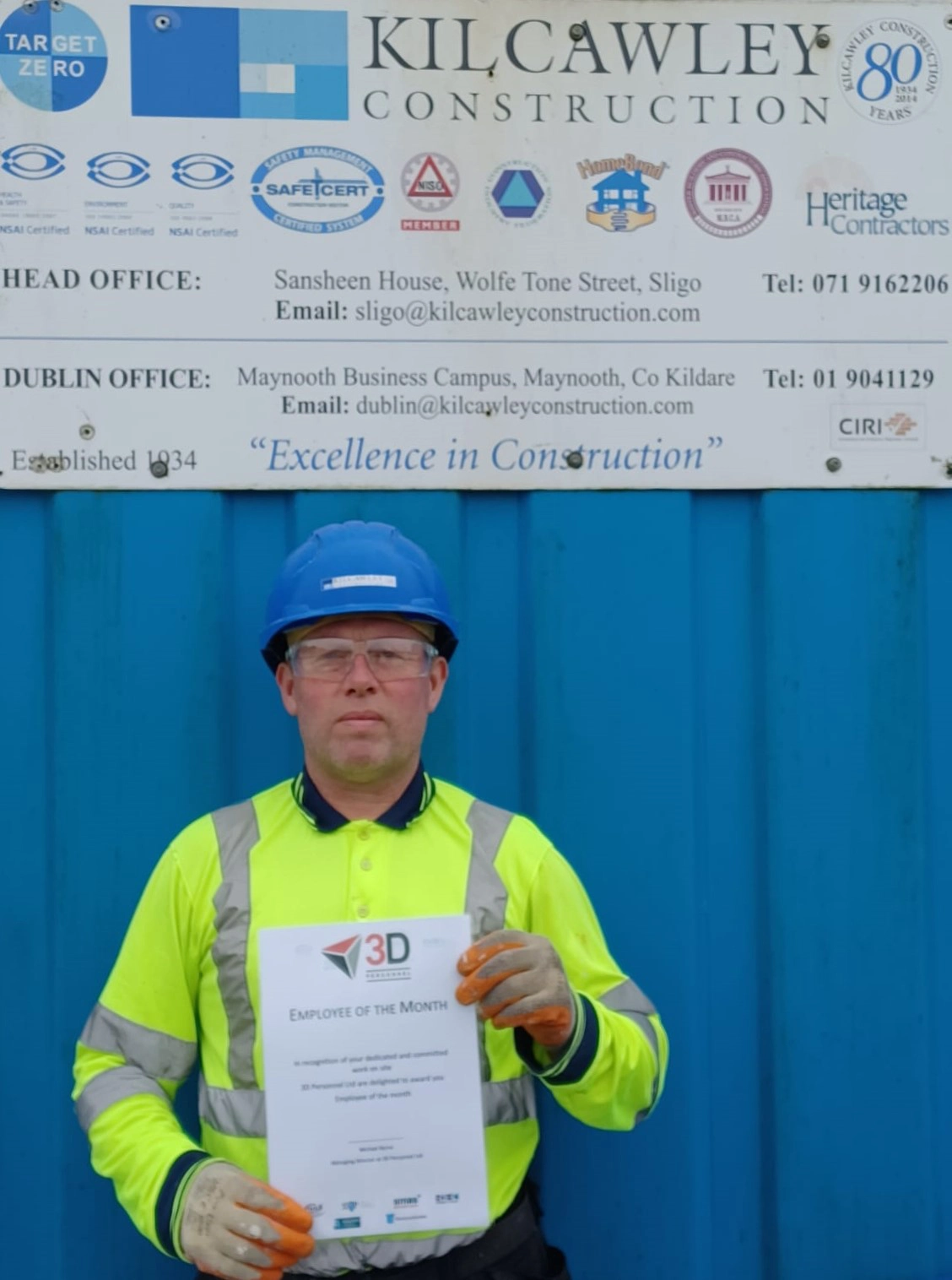 PJ Moore representing our Irish offices
PJ Moore has worked for 3D Personnel since 2019 for various contractors all over the midlands.
Eamon Wall, Account Manager, who is based out of our Dublin office, was delighted to present PJ with his award on site. He had this to say:
PJ is a very hard working and safety conscious employee with a great eye for detail.

PJ has always been a great ambassador for 3D Personnel and continues to put his best foot forward on behalf of 3D.
​
Well done PJ - 👏
​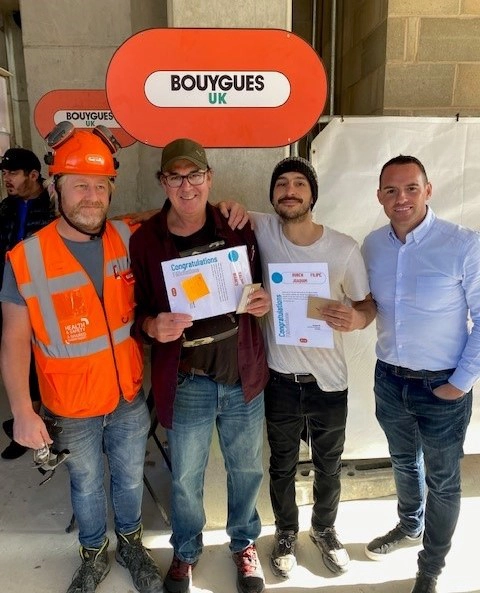 Ruben Filipe Joaquim and Valdir Bianco representing 3D on the Ebury Bridge Estate project
3D Personnel were delighted to recently be invited to BOUYGUES UK Ebury Bridge Estate Topping out Ceremony 🏢
Located in the heart of central London, the new Ebury Bridge Estate is the biggest delivery of new affordable homes in South Westminster in over 50 years. The scheme will create around 760 high-quality, energy efficient homes, of which 56% will provide affordable housing with the remainder made up of intermediate ownership and market sales.
BOUYGUES UK is delivering the first phase of the development for Westminster City Council, continuing its strong working relationship with the London Borough.
The first phase of this ambitious scheme comprises the first two residential blocks of 16 and 17 stories, with a total of 226 units, and the concierge for the entire scheme. These units consist of 110 market tenure homes, 100 homes for social housing and 16 intermediate ownership homes.
BOUYGUES UK have donated £74,000 to community projects and given 35 hours a week to volunteering at projects including the Abbey Centre, Construction Youth Trust, Women into Construction CIC, and Social Bite.
BOUYGUES UK has supported career sessions, work experience placements and educational support for residents and schools, and has taken on five apprentices from surrounding London boroughs.
Pictured above is Ronan Woods, Senior Site Manager, presenting awards for their hard work on the project to two of the 3D Team on site, Ruben Filipe Joaquim and Valdir Bianco. Ciaran Greene, Sales Director at 3D Personnel is also pictured.
​
Well done to all involved for some fantastic work on this project 👏🏼
​