3D Personnel and Mr Whippy came together recently to combat the 2023 summer heatwave ☀️ As a gesture to recognise and thank all the hard work and dedication shown by the entire team working with Mackley on their Portsea Project in Portsmouth, 3D Personnel arranged for Mr Whippy's ice cream van to visit the site, where refreshing drinks, slushies and ice creams were provided for over 100 operatives.
​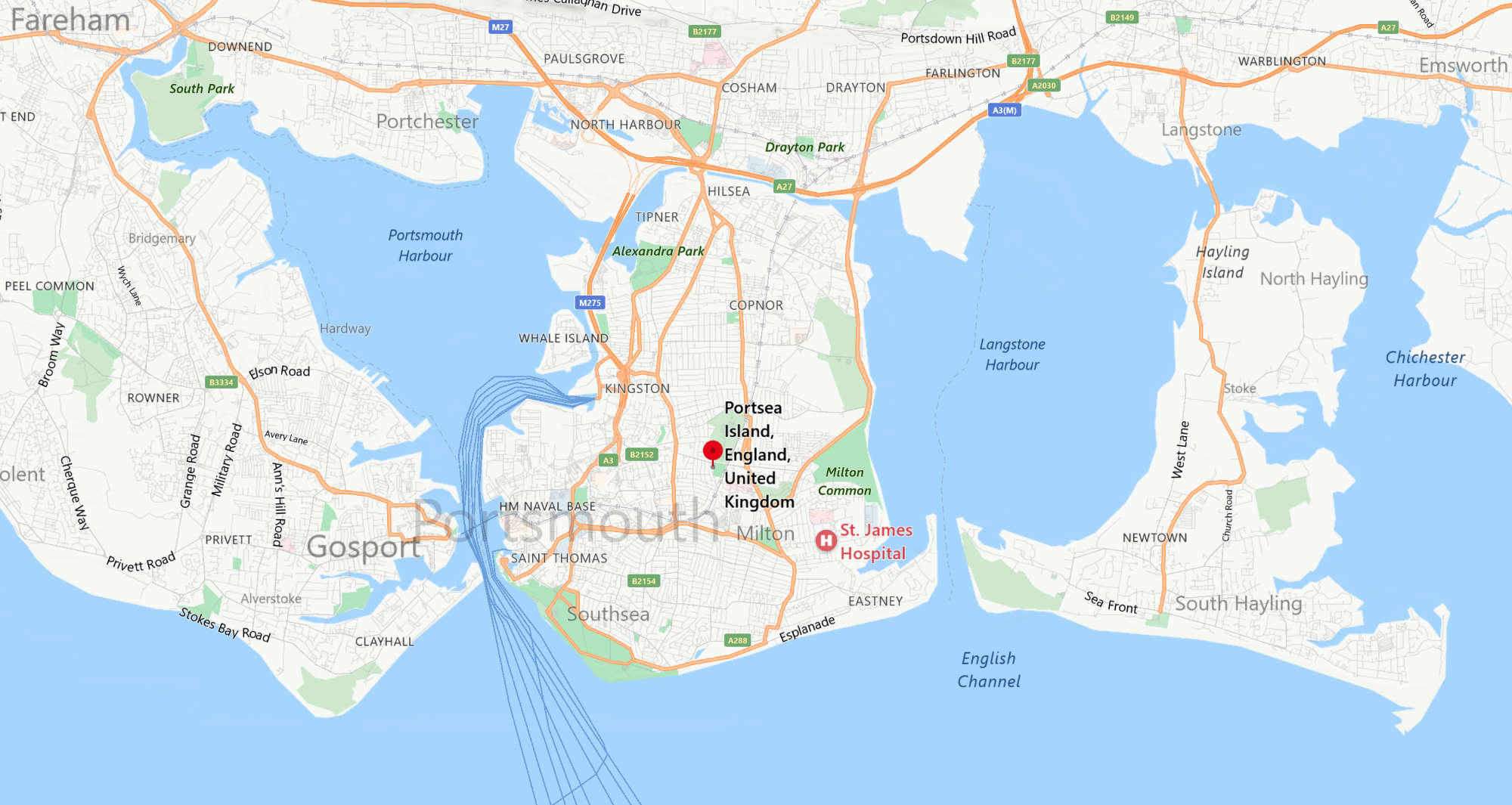 The North Portsea Island Coastal Defence Scheme
This vital work on the coastal defence scheme has been ongoing since 2015, with Mackley once more selected for the current (fourth) phase of the five-phase scheme. Work on this phase which started in 2019 is due for completion next year.
Portsea Island is a small, low-lying island which contains a large proportion of the city of Portsmouth. It is the third largest (by population) of any island in the British Isles after the mainlands of Great Britain and Ireland and has the highest population density.
This phase of the scheme will go a long way towards protecting more than 4,500 homes and businesses on Portsea Island from the risk of coastal flooding.
​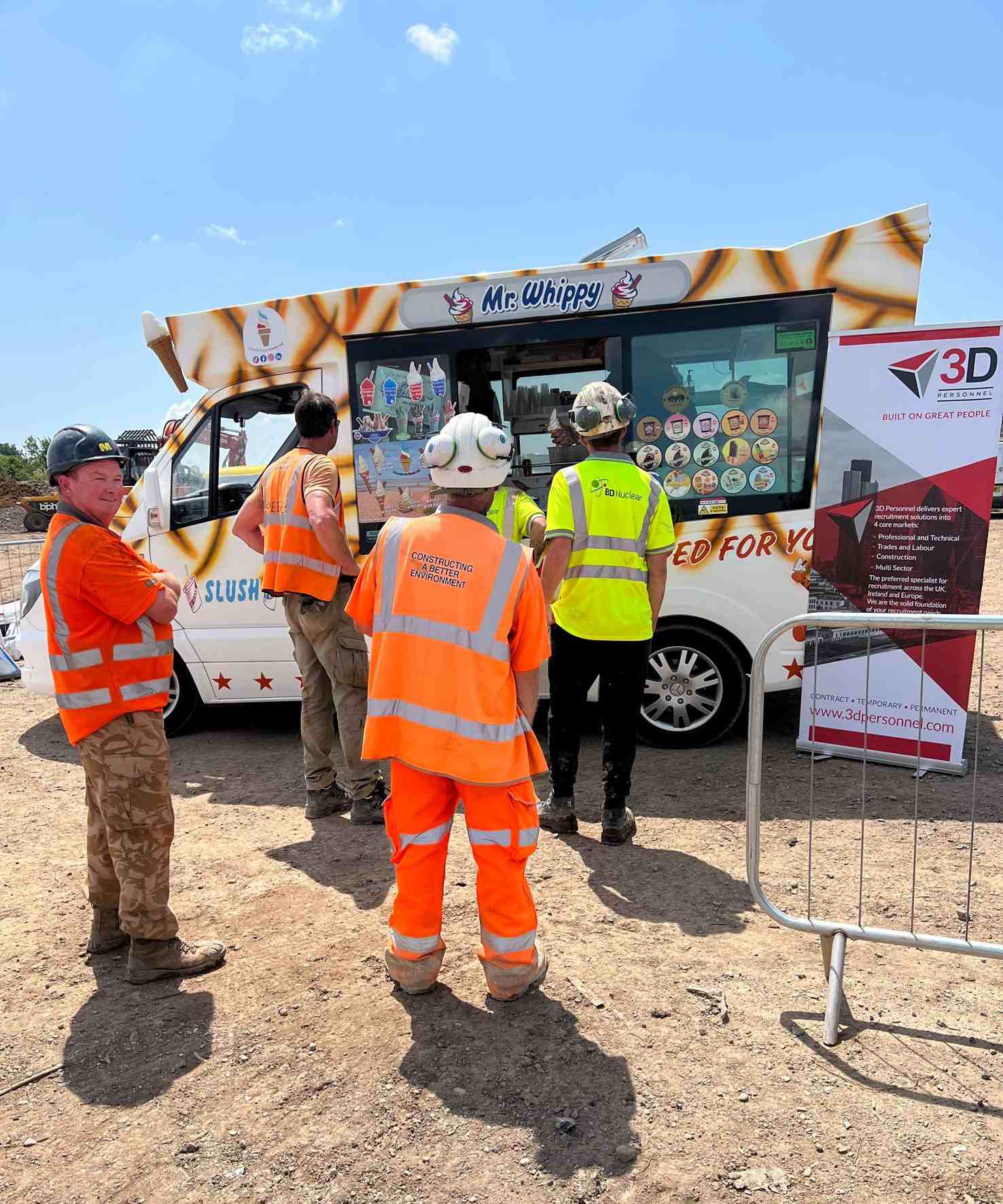 3D Personnel working alongside Mackley
A lot of hard work has gone into supplying and maintaining the labour supply on this site but none of what we have achieved would be possible without the relentless hard work of all our dedicated operatives on site.
Speaking about this relationship Connor McKiernan, our Civil and Infrastructure Manager in the UK had this to say:
Myself and the labour team at 3D take great pride in working alongside Mackley on this project. We have provided the majority of the labour supply for the last three years and we will be committed to providing a great service until the project draws to a close next year. Since working alongside Mackley, we have developed a great relationship and understanding with the Mackley site team and will continue to work hard to deliver for them.
​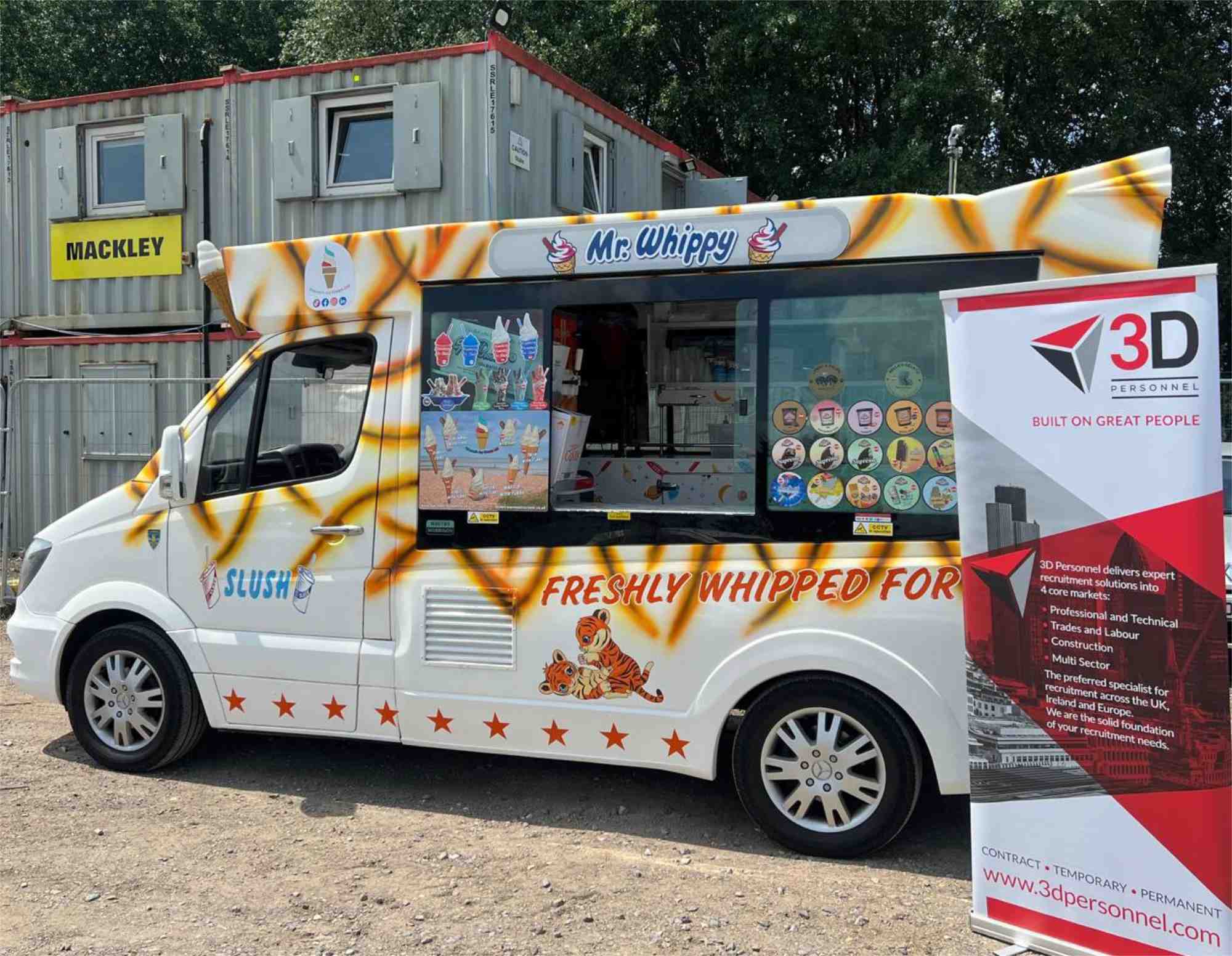 Mr Whippy offers a nice reprieve from the heatwave
Connor came up with the idea of giving something back to the hardworking teams on site in Portsea. Considering the recent weather and ongoing heatwave in the UK he went to work on his project: Ice Cream – Mr Whippy saves the day!
So last Thursday Mr Whippy, well stocked with ice cream, drinks and slushies arrived on site to a great reception. Patient queues formed and everyone on site got the opportunity to enjoy an ice cream, refreshing drink and slushie.
As you can see from the photos a lot of happy faces enjoying the break 🍦
​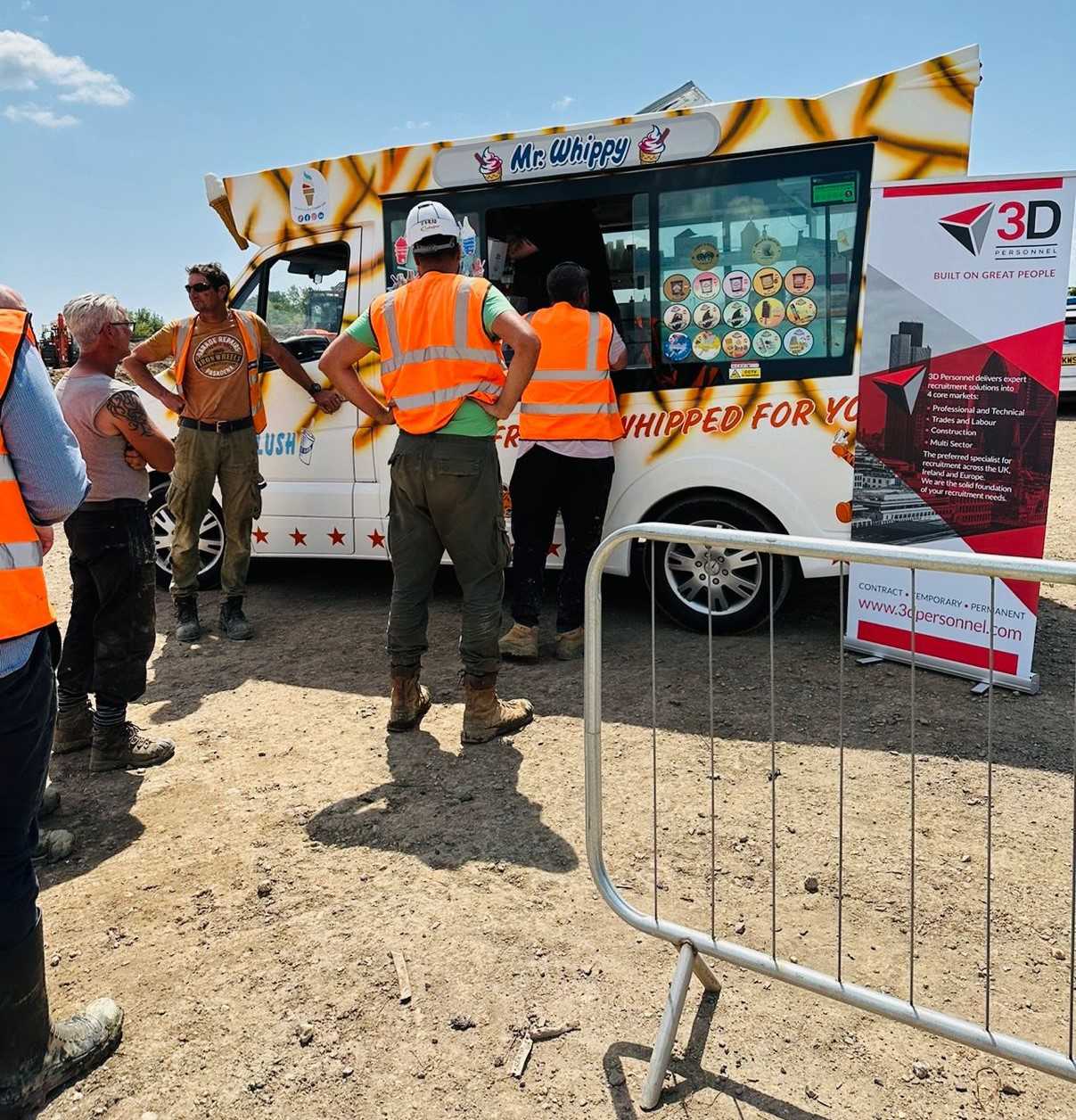 ​Damian Doherty praises the Mr Whippy Initiative
3D Personnel's Managing Director, Damian Doherty was delighted with the initiative and thanked Connor and all of those involved for their contributions, none more so than our operatives on site.
3D Personnel's mantra is that we are built on great people. 3D is only as good as the people that work for us on site. We wanted to recognise and say thanks to all our hard-working operatives.

The management team at Mackley's also recognise the value of the people on site. Both 3D and Mackey's management teams agreed to giving the workers a well-deserved break in the current hot weather. We are delighted that everyone enjoyed the treat.
​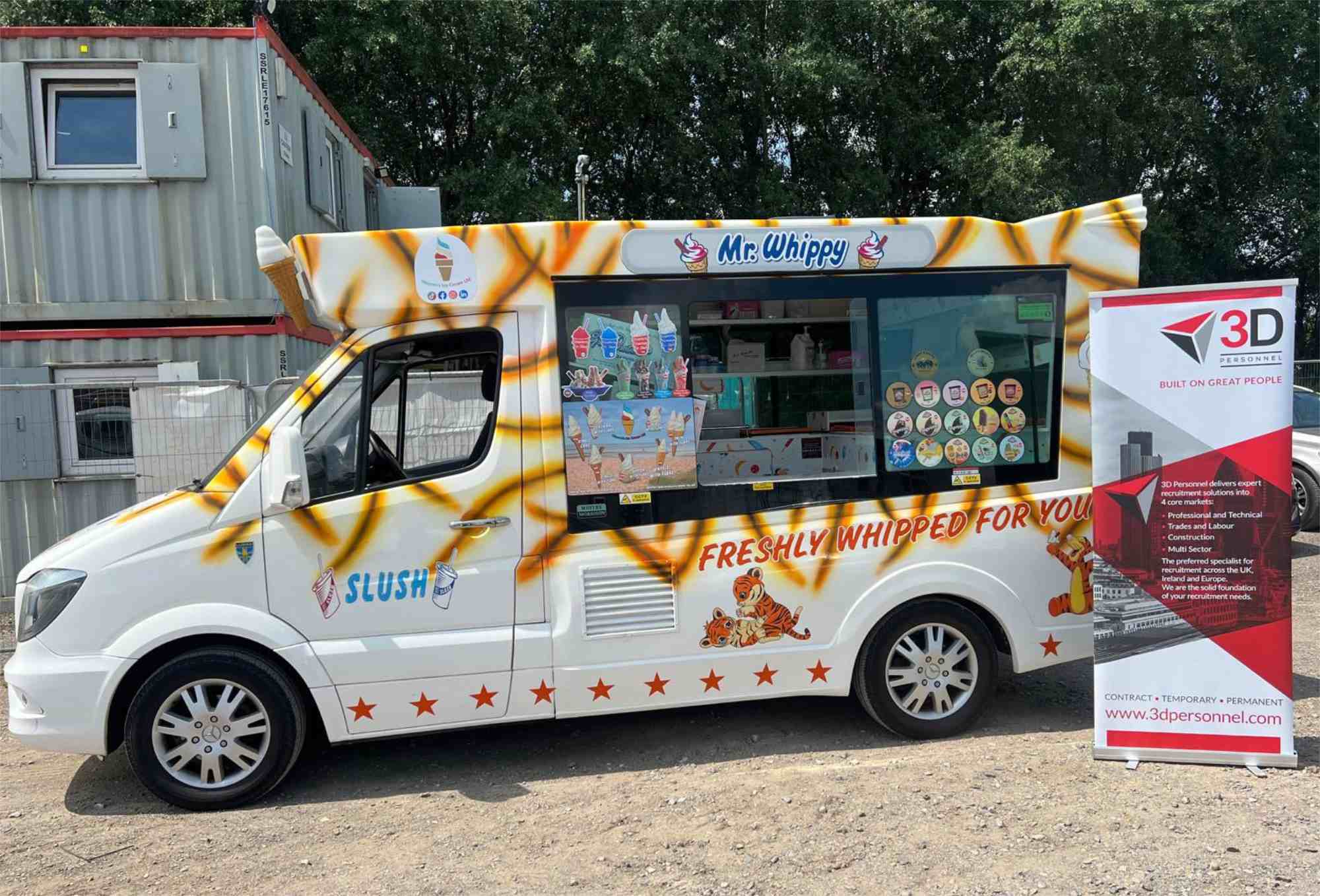 Where next for Mr Whippy and how long will this heatwave last?
Connor is keeping his cards tight to his chest, but he hasn't ruled out seeing Mr Whippy back in action on other 3D sites, later in the summer. Watch this space …….
​​
To talk to our team in the Southampton office visit us at 3D Personnel | Southampton or call +44 23 8040 6322