Dublin Airport Civil Works Jobs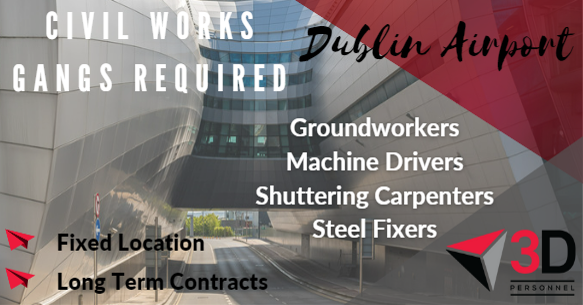 ​3D Personnel currently have a number of long term contract jobs available at Dublin Airport. These jobs are for Civil Works Gangs, based at the airport and offering contracts running to the end of 2024, and possible beyond.
Some of the positions that we are looking to fill are:
· Groundworkers (including laying pipes, ducting, paving, benching manholes, kerbing)
· Machine Drivers (including 360 excavators, site/artic dumpers, teleporters)
· Steel Fixers
· Shuttering Carpenters
Operatives will require the following certification:
· Safepass
· Manual Handling
· CSCS (front and back)
We are particularly interested in talking to operatives with previous Airport experience. We will also work closely with interested candidates, to get the required certifications for work at the Airport.
Heading up the team working on these Dublin Airport long term contact jobs are Philip Doherty and Fionn Gallagher.
Philip and Fionn will be delighted to hear from you. They can talk you through the roles, conditions and requirements and help you to get everything in place. So, feel free to call for a chat without any obligation.
Philip can be contacted on 086 382 6968, while Finn can be reached at 087 6656650.
Alternatively, call our Dublin number 01 5133102, or email airport@3dpersonnel.com
​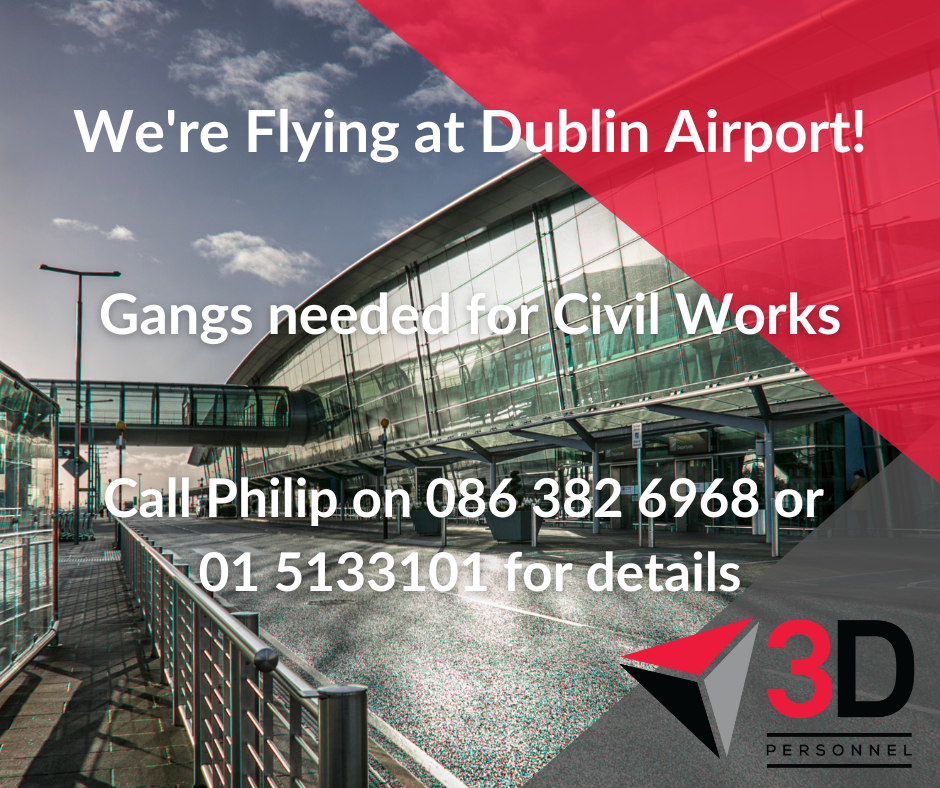 ​
From housing developments to high profile commercial builds, 3D Personnel provides top construction talent for a wide range of projects across East Kilbride. Our dedicated team of construction recruitment specialists has access to some of the brightest professional & technical and trades & labour talent who are seeking the opportunity to get involved in some of the most exciting projects being undertaken in the area.
All roles within East Kilbride are coordinated out of our Glasgow branch so please contact our specialist recruitment consultants on 0141 280 2633 or glasgow@3dpersonnel.com.